Information Systems for Military Aviation
Military aviation is about being mission ready at all times in order to confidently execute routine and unexpected tasks. ARMS® ML tools help planners prioritize operational tasks to meet military objectives across different fleets, equipment, weapon systems and environments. ARMS® ML comprises subsystems for specific operational job functions.
Mission Planning & Briefing
A comprehensive tool for planning routes, payloads, fuel and profiles as defined by mission objectives.
Generates a comprehensive briefing package with all relevant operational information for crew, including mission profile, real-time weather, NOTAMS, intelligence, etc.
Briefing package can be securely deployed on tablets, giving Electronic Flight Bag (EFB), Electronic Flight Folder (EFF) and Electronic Tech Log (ETL) capabilities.
Mission Monitoring & Control Centre
A comprehensive monitoring and control centre that gives up-to-date information on status of air ops to the Commanders, for situational awareness and decision support.
In-flight re-routing and tactical control of mission (requires air-ground-air data link options)
Real-time Fleet Watch and Flight Following of all airborne aircraft, provides an up-to-date "Horizontal Situation Display (HSD)" (requires aircraft position reports from ADSB/ ACARS/ Satellite data links).
Enables real-time tracking of missions, cargo and logistic movements in air.
Current and forecasted weather is overlaid on the HSD, cautioning controllers of weather related risks to operations
A unique feature that displays "critical low-level weather over terrain" helps missions operating in mountainous areas, proactively avoid hazardous situations.
Enables users to define restricted areas, danger zones, threat envelopes etc.
Flight Data Monitoring & Analysis
Decodes and parses flight and voice data from DFDRs and CVRs
Automatic detection of exceedances and SOP deviations… important input for FOQA program
Transforms data, for analysis, trend monitoring and insights
Monitors performance of crew and provides tools for mission debrief and proficiency mapping
Continuous monitoring of equipment parameters, defects, failures…important input for MOQA program and preventive maintenance, ensuring high serviceability states
Crew Management
Covers every aspect of the HR lifecycle in personnel management (hire>train>deploy & sustain)
Enables Commanders to plan training, leave and other disposals of crew, required to ensure adequate availability for designated missions.
Proactively monitors and maintains training, qualifications and documents of crew to ensure legality and deployability for missions.
Optimally schedules the most suitable crew, ensuring requisite proficiency levels for a given task/ mission
Monitors alertness, fatigue and duty limits of crew, to ensure mission accomplishment
An integrated Training Management Module consistently delivers high-quality training, thus ensuring skill, competency and operational readiness is maintained at peak levels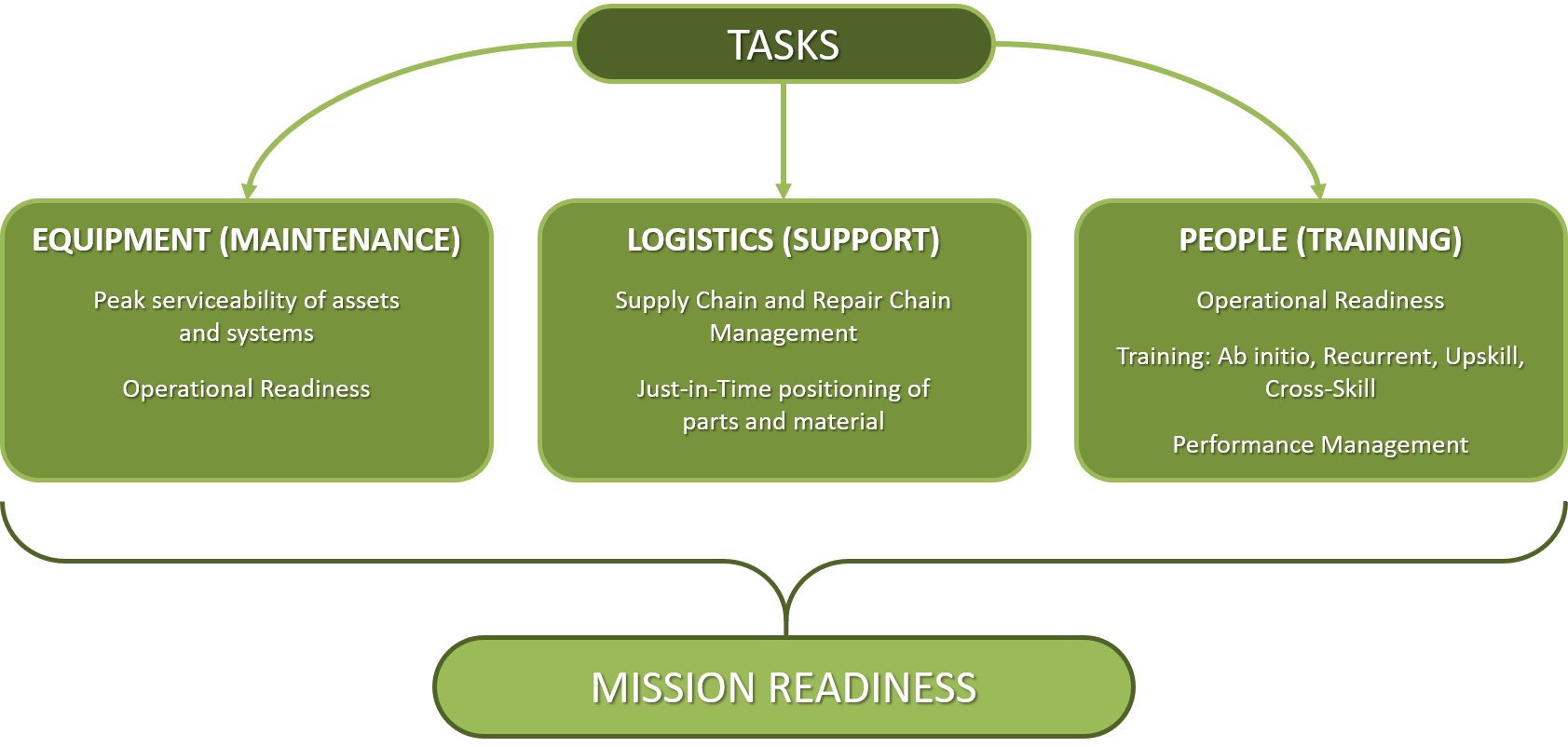 Maintenance & Engineering
Ensures weapon-systems are maintained at the highest levels of operational readiness while ensuring sustained serviceability
Efficiently manages the maintenance, repair and overhaul of aircraft, avionics, aero-engines, missiles, radars, communication, radio and nav aids, EW equipment etc.
Efficient management of resources, i.e., people, equipment and materials, to ensure that weapon systems are always available to meet operational goals
An integrated Logistics and Inventory Management System manages the supply chain by just-in-time (JIT) positioning of equipment and spares, where and when required
Quality and compliance is never compromised with the built-in audit and continuous surveillance tools, which ensure maximum state of mission readiness
A centralized and unified database accessible through secure field-portable devices, gives true flexibility of deployment, empowering users with true workflow automation, enabling real-time decision support.